The Material and the Virtual in Photographic Histories
International Symposium October 7-9, 2021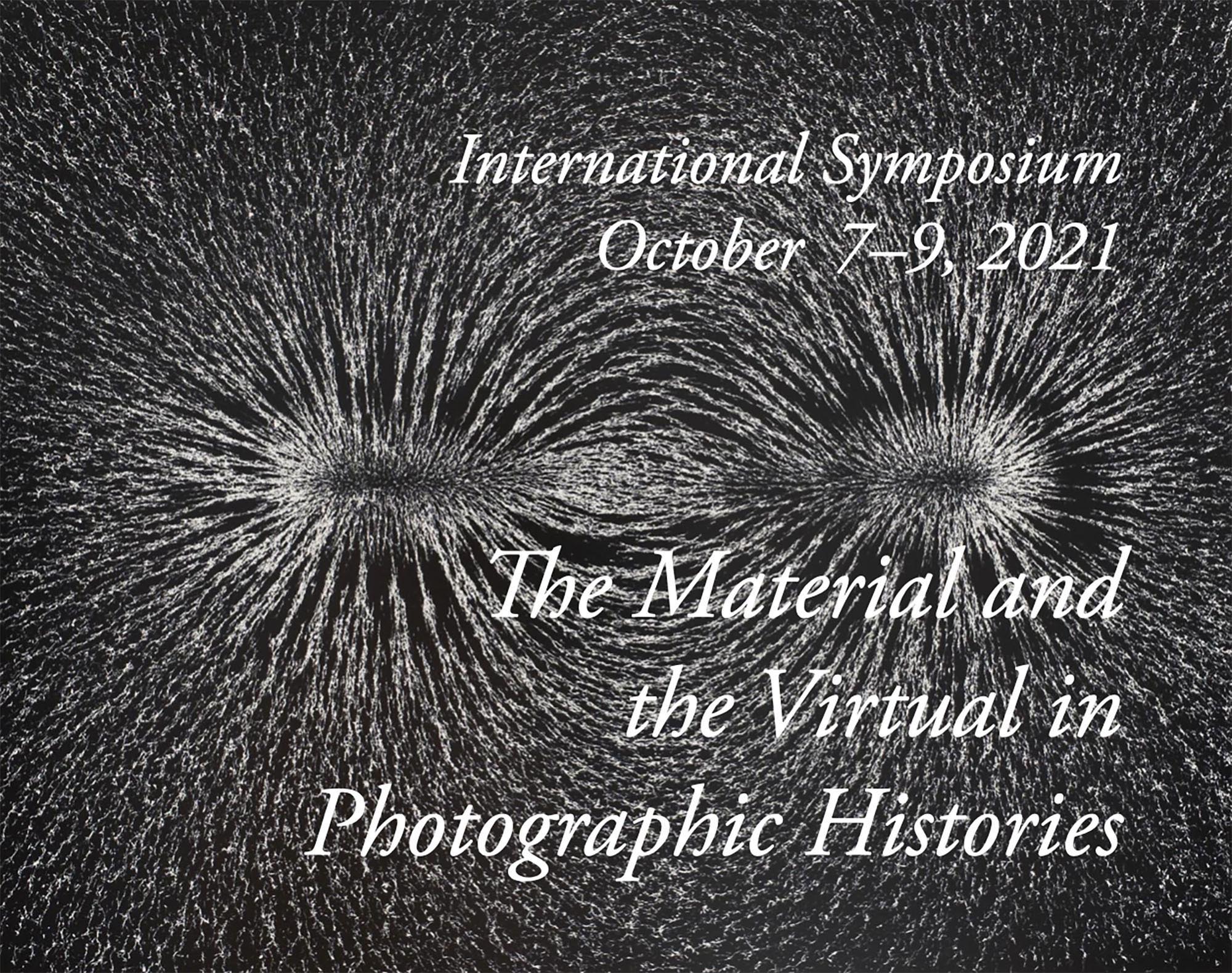 The First Symposium of the Photography Network will be held virtually from October 7 through 9, 2021, jointly hosted by the Photography Network and Folkwang University of the Arts, Essen.
Over the last twenty years, the study of photography's history has been characterized by, among other things, two opposing strands: a concentration on the photograph's status as an object and a concern with the decidedly virtual quality of its images and practices. The 2019 FAIC conference »Material Immaterial: Photographs in the 21st Century« considered these two directions in photographic conservation, asking if the physical photograph still matters today as a source of teaching, learning, and scholarship when the intangibles of code now direct the production and archiving of images. Now, from a methodological direction, this Photography Network symposium seeks to inquire further into the historical implications of the increasing distance between photography's status as an object and its life as what could be called the intangible »photographic.«
On one side of the ledger in historical studies, Elizabeth Edwards has long proposed that we consider photography's object history; Geoffrey Batchen has emphasized the haptic quality of long-neglected vernacular forms of photography; the Museum of Modern Art in New York engaged a years-long conservation and curatorial project named »Object: Photo«; and the »Silver Atlantic« initiative in Paris explores the mineral histories of the medium. But at the same time, Tina Campt has asked us to »listen« to photography; Fred Ritchin has urged us to study photography's virtual lives in social media; and Ariella Azoulay proposes that we consider the larger sphere of habits, customs, and civil contracts that surround photographic activity and its images. The same division emerges with ever-greater strength in the production and curating of images. Many photographers, for example, have returned to obsolescent processes or emphasized the material contexts of their work's production, while others use online virtual worlds as a source for appropriation and manipulation as well as a destination for display and distribution; or emphasize the social practices and performances of identity that have given rise to new work. Curators, too (especially during the pandemic), have grappled with acknowledging the physicality of photographic objects in online contexts even as they puzzle over how to collect purely virtual works and otherwise signal the larger social contexts in which photography intervenes.
Given this consistent cleavage, the symposium asks; Where do the object-based and the virtual meet in photography's histories? How can these two strands in photo studies be brought together and harnessed to reconsider existing problems or launch new investigations?
Programm
Thursday, October 7th, 2021
3:00-5:45 pm UTC
Introduction to the Event
Caroline Riley, Steffen Siegel, and Andrés Zervigón
Announcement of Book Awards and Project Grants
Catherine Zuromskis
Pecha Kucha
Moderator: Ariel Evans
Friday, October 8th, 2021
3:00-7:30 pm UTC
Panel 1: Physical & Virtual
3:00-3:45 pm UTC
Moderator: Monica Bravo
Sara Dominici, Empowerment through material and haptic rituals: the darkroom as performative space
Allison Pappas, Photographic Impressions: Physical and Perceptual Confluences in the Making of a Medium
Fionn Montell-Boyd, William Henry Fox Talbot's Supply of Silver and the Extractive Materiality of Early Photography in Britain
Isabel Wade, Ed Ruscha, Architectural Photography, and the Digitization of Los Angeles
Panel 2: Past, Presence, Re-Use
4:00-4:45 pm UTC
Moderator: Andrés Zervigón
Michelle Smiley, "Lyrics of Sunshine and Shadow": Isaac Julien's Virtual Tintypes and the Utopian Scene of Nineteenth-century Photography
Sara Callahan, Pilfered Pictures: Artistic References to Nineteenth Century Photographs
John Jacob, Spirit Portraiture: Re-thinking William Mumler through Posthumous Mourning Portraiture
Maíra Vieira de Paula, The Multi-Sensory, Affective and Embodied Performances of 19th Century Appropriated Photographs in Rosana Paulino's Assentamento Installation.
Panel 3: Objects, Documents, and Immateriality
5:00-5:45 pm UTC
Moderator: Steffen Siegel
Emily Doucet, Compressing Communication: Microphotography's Global Networks
Colin Hemez, Vision, Vanishment, Revision: The Life of a Nuclear Photograph
Douglas Klahr, Shifting Scenes of Illumination and Coloration: The Temporal and Narrative Fluidities of Tissue Paper Stereoviews
Adrienne Lundgren, Beyond Objects: Tracking Trends in the Development of Photography in the United States Using Craig's Daguerreian Registry (1839–1860)
ROUNDTABLE: Approaching Photographs as Data: An Introduction to Methods and Tools
6:00-7:30 pm UTC
Participants: Paul Messier, Damon Crockett, and Katherine "Kappy" Mintie
Saturday, October 9th, 2021
3:00-7:00 pm UTC
Panel 4: Portraits & Illusions
3:00-3:45 pm UTC
Moderator: Steffen Siegel
Erin Pauwels, Promiscuous Pictures: Re-Reading the Book of the Artists as Cultural Interface
Roy Ng, Rumah abu: Photography and Worship in Straits Chinese Ancestral Halls
Suryanandini Narain: Beautiful Bride, Handsome Groom: Producing Wedding Photographs in India
Kris Belden-Adams, ThisTheoryDoesNotExist: Examining and Historicizing Artificial-Intelligence-Generated, Hyper-Realistic, DeepFake Photographs as 'Data Portraits'
Panel 5: The Photographic: Photographic Books & Illustrative Magazines
4:00-4:45 pm UTC
Moderator: Andrés Zervigón
Sasha Whittaker, Digital Participatory Photojournalism's History in Print: Amateur Photography in Life Magazine
Estelle Blaschke, Managing Flows and Sediments
Kevin Lotery, Autograph: Richard Hamilton's Polaroids
Alice Morin and Jens Ruckatz, Transferring Photographs: What Is "The" Photographic Image?
Panel 6: The Photographic: Taking & Sharing5:00-5:45 pm UTC
Moderator: Caroline Riley
Leslie Brown, The Picture Ahead: Material and Virtual Iterations of Kodak Picture Spots.
Katherine Mitchell, Volcanoes and Steamships: Landscape and Industry in Watkins' Columbia River
Elizabeth Siegel, André Kertész's Carte Postale Prints, 1925–28
Daniel H. Magilow, Shoah Selfies, Shoah Selfie Shaming, and Social Photography
ROUNDTABLE: The Photograph as Land
6:00-7:30 pm UTC
Participants: Siobhan Angus, Carolin Görgen, Aaron Katzeman, Emilia Mickevicius, and Jordan Reznick (chair)
Concluding Remarks and possible Virtual Meet-and-Greet Event (7:00-7:45 pm UTC)
Andrés, Caroline, Steffen
Kontakt
steffen.siegel@folkwang-uni.de