Symposium – Images in Conflict
17.-18. Mai 2017 Hochschule Hannover - Studiengang Fotojournalismus und Dokumentarfotografie

PROGRAMME / IMAGES IN CONFLICT – Symposium
Images in Conflict: Photographic and cinematic images of situations of crisis and conflict change in terms of aesthetics and applications, thereby becoming targets themselves. On the one hand, image producers and the distribution channels for images have multiplied in the course of digital developments. This broadens perspectives and enables new narrative forms. On the other hand, it is associated with an upheaval of classical photojournalistic self-perception. The rivalry between visual strategies can increase the affective potential of images. It also raises the question to what extent photographs can still function as witnesses. In the realm of claims to truth, they move among authenticity, objectivity and propaganda. Their contextualisation and framing create meanings and require reflection.
The symposium Images in Conflict will bring together experts in the theory and practice of photographic images and foster a discussion of visual testimony and emotional persuasiveness.
Four panels will elucidate various aspects of images in conflicts.
Under the topic of Agents and Perspectives, Dutch photographer Geert van Kesteren (Why, Mister, Why? and Baghdad Calling), Syrian graphic designer Dona Abboud (Out of Syria, Inside Facebook), pictorial scientist Philipp Müller (ISIS' Image Strategies) and communications scientist Dr. Felix Koltermann (Photojournalists in Conflict: International Photojournalists in Israel/Palestine) will speak about the confrontation of professional shots and amateur pictures, the potential complicity in virtual testimony and the influences that production conditions have on photojournalistic acts in areas of conflict.
The subject of the second panel will be Nothing but the Truth: experienced journalist and Human Rights Watch spokeswoman Emma Daly (New York) will report on how photographic witnesses are used as evidence in the struggle for human rights. Prof. Dr. Ursula Frohne (University Münster), an art historian, will address the interplay of iconic picture status and the impression of certainty based on Harun Farocki's Serious Games. Photographer and author Michael Ebert will discuss the misinformation that infuses the reception history of Nick Ut's famous Vietnam War photos of children burnt by napalm. Stephen Mayes of the Tim Hetherington Trust will ask what digital processes make of the truth of an image.
The third panel will be devoted to pictures, and sometimes even conflicts, that are Visibly Invisible. In his project War Porn, Christoph Bangert (Cologne) carried out the daring experiment of switching off his inner censor and confronting us with pictures that challenge our viewing habits despite all the horrific images in circulation. Magnum photographer Donovan Wylie focuses on military architecture in conflict landscapes in his seemingly peaceful photos. Furthermore, Adam Broomberg, one partner in the artistic duo Broomberg&Chanarin, will warn against seeing pictures as singularities. Prof. Dr. Karen Fromm (Hanover University of Applied Sciences and Arts) will take on the theoretical classification of the mechanisms of exclusion and visualisation in photojournalism. Santiago Lyon, as keynote speaker, will report on his work for picture agencies (most recently AP, New York) and their practice of selecting photographs for editorial purposes. The panel will be moderated by the multi-award-winning photographer Dr. Paul Lowe from the London College of Communication.
How to make images matter? The closing panel will combine various approaches to the question of the efficacy of pictures. Author Dirk Gieselmann (Berlin) and photographer Armin Smailovic created an Atlas of Angst on their journey through Germany. They use photos as one medium among others in order to convey the results of their research. Prof. Dr. Martin Scholz (Hanover University of Applied Sciences and Arts) will share his thoughts on the phenomenon of pictures as fans of other pictures in the sense of the development of the effects of iconic photographs in their reception by subsequent photos. Dr. Vera Brandner (Innsbruck) will discuss photography as a form of action, dialogue and reflection whose effects become applicable in working with people in situations of cultural difference. Making photos both usable and useful is also a central topic of the presentation to be given by Prof. Dr. Rolf F. Nohr (Institute for Media Research, Braunschweig University of Art). He will look at images of flight and current populist picture strategies from the approach of critical discourse analysis.
Ultimately, questions continue to surround the core problem of the main task of photojournalists: how can pictures provide authentic reports and have an effect that touches us without manipulating us?
Along with Paul Lowe, Hans-Peter Fischer and Prof. Dr. Friedrich Weltzien (both Hanover University of Applied Sciences and Arts) will moderate panels. The art historian Prof. Dr. em. Susanne von Falkenhausen (Humboldt University Berlin) will join the symposium as a respondent.
On 17 May 2017 at 7:30 pm, the symposium's eponymous accompanying exhibition will open. At the GAF Galerie für Fotografie, works by Dona Abboud, Christoph Bangert, Edmund Clark, Harun Farocki, Ziyah Gafić, Dirk Gieselmann & Armin Smailovic and Tim Hetherington will be presented. The exhibition Images in Conflict (18 May – 18 June 2017, www.gafeisfabrik.de) examines these questions from the viewpoint of contemporary photographers and artists who seek forms of investigation beyond current reporting. In their works, they consider the changing functions of photographic and cinematic images in situations of crisis and conflict and thematise the role played by the media in various areas of war.
Since 2001, the Hanover University of Applied Sciences and Arts has been the only institution in Germany to offer a degree programme in photography with a focus on photojournalism and documentary photography. The goal of the course is to develop photographic personalities who are prepared for the challenges and potential of a visual journalism that is constantly reinventing itself. They must also have the ability to translate their relationships with the world into their own visual forms.
Under the title IMAGE MATTERS, the Photojournalism and Documentary Photography programme has created a platform for discussion about issues in photographic practice, discourse in the theory of image and photography as well as in visual and cultural studies. This dialogue will open up important new perspectives for both sides. IMAGE MATTERS will encourage photographic discussion, host workshops and symposia and develop publications aimed at students and a specialised audience from the areas of practice, theory and research.
PROGRAMME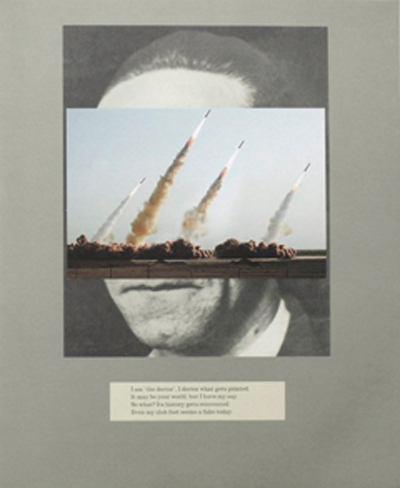 Wednesday, 17/5/2017
10:30 Welcome and Introduction
Prof. Dr. Martin Scholz, Prof. Dr. Karen Fromm and Anna Stemmler
11:00 Panel 1: Agents and Perspectives
Moderation: Hans-Peter Fischer
11:00 'Why Mister, Why?' & 'Baghdad Calling'. Art & Terror in the Age of Twitter
Geert van Kesteren
11:45 Photojournalists in Conflict. A Look Behind the Lens of Photojournalism in the Middle East
Dr. Felix Koltermann
12:10 Out of Syria, Inside Facebook. Syrian Wartime Life in the Social-Media Image Language of Amateur Photographs
Dona Abboud
13:30 The Collapse of Reality? On the Relationship and Status of Picture and Viewer in Images of Terrorism by the So-Called Islamic State
Philipp Müller
14:00 Panel Discussion: Change of Perspective
14:40 Panel 2: Nothing but the Truth
Moderation: Paul Lowe
14:45 Pictorial Evidence in the Fight for Human Rights
Emma Daly
15:50 Violence from Within – Harun Farocki's Serious Games
Prof. Dr. Ursula Frohne
16:25 "No, it's not Dave (Burnett)!" – The Truth about a Photo that Everyone Knows
Michael Ebert
17:00 Truth: the First Casualty of War (and Photography)
Stephen Mayes
17:55 Panel Discussion: How to Be a Picture Witness
19:00 Admittance to the GAF. Snacks will be available.
19:30 Opening of the Exhibition ›Images in Conflict‹ at the GAF. Galerie in der Eisfabrik.
Welcoming address: Prof. em. Rolf Nobel, Prof. Dr. Karen Fromm
Introduction: Sophia Greiff
Thursday, 18/5/2017
10:00 Panel 3: Visibly Invisible
Moderation: Paul Lowe
10:00 Keynote: Practices and Processes of Photography Agencies
Santiago Lyon
11:00 The Invisibility of the Frame. On the Politics of Images in Photojournalism
Prof. Dr. Karen Fromm
11:25 War Porn. Ethics and Photojournalism
Christoph Bangert
11:50 Architecture Of Conflict
Donovan Wylie
13:15 Never Look at Images Alone
Prof. Adam Broomberg
13:45 Panel Discussion: How to Make Conflicts Visible?
15:00 Panel 4: How to Make Images Matter?
Moderation: Prof. Dr. Friedrich Weltzien
15:00 Atlas of Angst. A Journey Through Germany
Dirk Gieselmann, Armin Smailovic
15:25 Generative Image Work: The Efficacy of Photographic Practice in Situations of Cultural Difference
Dr. Vera Brandner
16:05 Fandom of Pictures
Prof. Dr. Martin Scholz
16:30 Useful? Effective? The Picture and Certainty
Prof. Dr. Rolf F. Nohr
17:30 Panel Diskussion: How to Make Images Matter?
The symposium will be held in the auditorium at Hanover University of Applied Sciences and Arts, Expo Plaza 2, 30539 Hanover. Presentations will take place in either English or German. An interpreting service is offered. Admission is free. Please register by email at image-matters@hs-hannover.de
The Image Matters Team: Prof. Dr. Karen Fromm, Sophia Greiff M.A., Anna Stemmler M.A., Helena Manhartsberger B.A.
www.fotostudenten.de
www.image-matters-discourse.de